Get a Quote Now!
or CALL US!
847-707-7185
Tension Stand Felt, Carpet,
Boards & Fasteners
Coil Processing Equipment Consultants is the
number one source for High Quality Low Cost
Tension Stand Felt, Carpet, Boards & Fasteners.
Felt is perfect for demanding use, such as tensioning
and high temperature resistance.
Felt provides:
braking
high temperature resistance
noise control
oil absorption
surface protection
wiping & polishing
Tight budget? Our carpets are a great low-cost felt alternative for tensioning, wiping and surface-to-surface protection. Commercial carpet available in Berber, cut pile and looped pile styles.
Photo used courtesy of Galaxie Corporation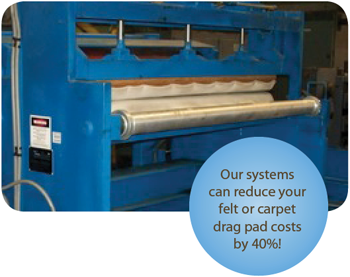 Felt & Carpet available in:
bulk rolls
die cuts
precision cut pieces
sheeting
slit rolls
slit cut rolls
Slitter Tension Stand Felt and Carpet Fastener Systems
A complete line of industrial fastener systems for every application. Using plastic or wood along with blue gripper, we can custom fabricate each fastener system to your specific requirements.
Slitter Tension Stand Drag Board System
We offer solid hardwood, UHMW and Micarta tension stand drag boards. Each board is custom made to your specifications and then coated with a special oil-proof solution for durability. Our drag boards used in conjunction with one of our fastener systems will outlast any standard wood board configuration.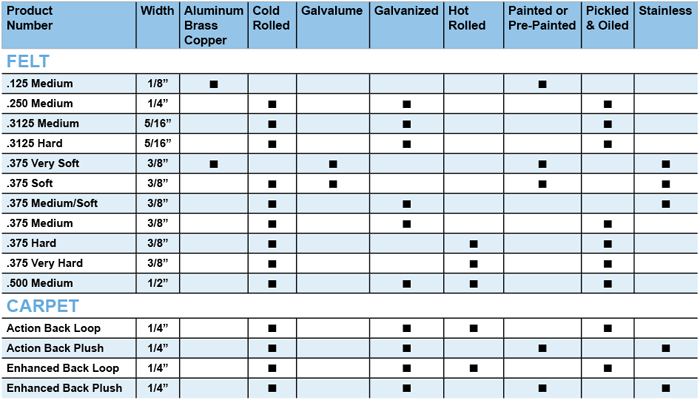 Download our Tension Stand Felt, Carpet, Boards & Fasteners flyer