Get a Quote Now!
or CALL US!
847-707-7185
Special Spreader System
This series of special spreader systems can be designed to lift loads
of almost any size, or weight. Certain adjustability characteristics
allow for a wide range of usage as well as handling unbalanced
loads where the center of gravity is substantially off center.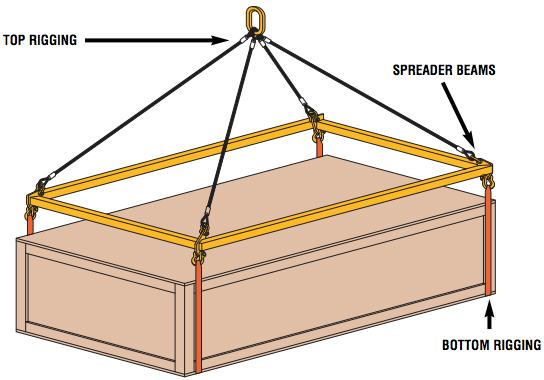 TOP RIGGING OPTIONS:
A. Fixed length 4-leg wire rope or chain sling.
B. 4 point Adjust-A-Leg®load leveling sling for unbalanced loads.
SPREADER BEAM OPTIONS:
C. Fixed length/width spreader design in rigid or bolt together style. Specify style required.
D. Telescopic length/width spreader design to handle loads of varying sizes. Specify min./max. lengths required for spreader length and/or width.
BOTTOM RIGGING OPTIONS:
The type of bottom rigging required is dependent on the location of the load pick points in relation to its center of gravity. Some common applications require:
E. Top or bottom container lifting lugs with wire rope slings.
F. Chain slings with hook attachments.
G. Nylon/polyester web slings
H.Boat lifting belly slings for marine applications.
H. Boat lifting belly slings for marine applications>
I. Vehicle lifting wheel nets.