Get a Quote Now!
or CALL US!
847-707-7185
Hook Blocks
Motorized Rotating Hook Blocks,
also called Crane Hooks or Crane
Bottom Blocks, are below-the-hook
crane lifting equipment custom
designed to your requirements.
The Hook Blocks make rotating loads on the crane hook easy for the operator.
HOOK BLOCKS PRODUCT FEATURES: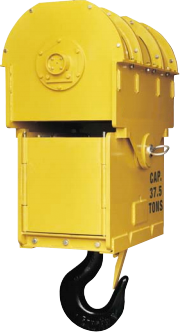 Sheave pin includes lubrication fittings.
External lubrication on heavy duty thrust bearing.
Heavy duty worm gear reducer.
Bull gear and pinion final drive.
Drive protection includes slip clutch.
Designed for ease of maintenance.
360 degree continuous rotation.
AC power.
HOOK BLOCKS PRODUCT OPTIONS:
Pin bail type attachment.
Clevis or lug instead of crane hook.
Hook/drive disengagement.
Continuous rotation with electrical collector ring to operate motorized below-the-hook lifters.
DC power.
Mechanical stops.
Electrical reversing motor controls.
Integral weighing system.
High temperature environment capability.