Get a Quote Now!
or CALL US!
847-707-7185
Transfer Carts
For horizontal load transfers of a wide range of material, Caldwell has
the heavy duty, high quality Transfer Cart solution you need. Transfer
carts are used: to carry loads along assembly lines; transfer material
from one work station to the next; store and transport an entire shift
worth of production. They can even be used as a stable yet moveable
machine base. With four different styles and standard capacities up to
60 tons, we have the solution you need and each style can be designed
for your specific application.
Steerable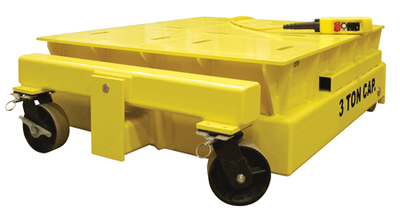 Capacity Range: Up to 45 tons
Basic pendant controls allow carts to travel in all directions across smooth and semi-smooth surfaces such as concrete and steel floors up to 45 tons. Ideal for assembly lines, bay-to-bay transfers, material transfers and maintenance.
Product Features:
Steerable Transfer Cart
Welded construction of structural steel
Two swivel and two driven wheels
Cable pendant for walk beside controls
Steel decking
Electric motor brakes
Product Options:
Custom deck surface
Integrated screw-jack lift
Integrated scissor lift
Fixture cradle decking
Non-marking urethane drive wheels
Steel wheels
Stainless steel wheels
Fork lift pockets
Weigh scales
Radio controls
Soft start
On-Rail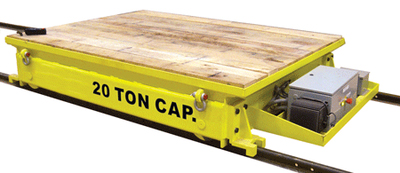 Capacity Range: Up to 60 tons
Carts are mounted on steel rail for shuttling along a fixed path. They can be DC battery powered or AC powered. Typically used for moving materials such as steel tubes or tanks of liquids from one location to another. Standard sizes from 4 x 4 to 6 x 8. Larger cart capacities and sizes are available for specific applications.
Product Features:
Welded construction of structural steel
Lugs for securing loads
Four steel wheels
Capacity signs both sides
Cable pendant controlled
Brakes
Steel wheels
Steel deck
Electric powered
Product Options:
Fork lift pockets for transporting
Weigh scales
Decking material
Paint color
Radio Control
Battery operated or electric
Cable reel
Towed Transfer Carts

Towed by winch, forklift, behind another powered transfer cart or towed by people.
These towed or pulled type transfer carts are not powered and are meant to be pulled or towed. Pulling can be done by another transfer cart that is powered via coupling the carts together. Alternatively, a fork lift (of adequate capacity) can be used to pull a cart of this type.
A transfer cart of this type when pulled by a winch can be a cost effective alternative to a powered transfer cart (on rail) to move loads along a fixed rail path.
Pull type transfer carts are versatile and can be easily customized to suit applications.
Applications:
Production assembly lines
Material delivery
Stock transfer
Fork lift trailer
Die transfer
Specifications:
Lengths of 4, 6 or 8 FT (or to suit application)
Widths of 4 or 6 FT (or to suit application)
Features:
All welded construction of structural steel
Two swivel and two rigid steel casters
Coupling connection for towing
Capacity signage both side
Manual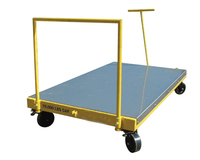 Capacity Range: From 1,000 to 10,000 lbs.
Manual Transfer Carts can be pushed or pulled by operators over smooth or semi smooth level floors. They easily maneuver loads without a fork lift. These rugged manual carts are versatile and can be customized to suit your application.
Product Features:
Welded construction of structural steel
Two swivel and two rigid or four swivel casters
Steel deck
Capacity signs both sides
U Bar push handle